Your wholesaling sales emails suck. Follow these rules to become a pro.
Let's start with the dos.
Give me the full address including city and state. I get at least one email a day with either the number of the street left off, which is usually intentional, or no city and state.
I always asked to be removed from lists when the wholesaler does not supply the street number. There is no reason to send out an email without the street number – quit being paranoid about someone stealing your house. Also, do not assume we know what city and state your house is in.
Give me a link to the page in public records – property appraiser, assessor or similar. And let me know if something is not accurate. Many times additions may not be part of public record.
Give me a link to a google map of where the property is. This makes sure you are not driving all the way to 1234 Jones Street when you should have been going to 1234 Jones Avenue
Tell me what repairs are needed for a flip and what repairs are needed for a rental.
Provide a picture of outside, kitchen and baths at a minimum in the email and then link to a gallery of photos of the whole house.
Tell me the heated square footage of the house and the total square footage. I am going to use this to figure out the cost of the roof and the painting and flooring estimates.
Tell me if the land has something special like crazy good zoning or future land use.
Let me know if there is an HOA and if so what are the dues.
Tell me the construction of the house, block, brick, or frame.
If it is vacant or occupied and how do I make an appointment.
What is the price. Please do not email if you don't at least give me a minimum.
Tell me what day I have to close by and if it is a double close or assignment of contract.
Tell me what is new. Doors, windows, water heater, drain field, pumps, appliances.
Take a simple video walk through and tell me the good and the bad, so we can both save time driving to the house if there is something I just don't like. It does not have to be professionally shot and can be very short. Upload to youtube and just don't mark public if you don't want seller to see that you are marketing the home.
Most of the time I put the year built and the current taxes. Sometimes I put projected rents.
Tell me the parking situation. How many car garage, carport or no garage.
A great wholesaler tells the schools as well, but sometimes I admit I leave them off if they are really crummy schools.
Give me the unique selling features like fireplaces, pools, outdoor kitchen, massive shade trees, 10 foot ceilings, dual zone ac, hardwood floors or terrazzo.
Write a great subject line and headline. I like to include address, city and price so my investor does not have to waste their time if not interested right away.
Finally, tell me how much to bind the project and your name, email and cell phone.
If you are smart, you are asking for permission to text your buyers deals. Open rates go from 30% to close to 100%.
Also, remember that over 50% of your buyers are reading your email on a mobile device, so make sure your layout is responsive.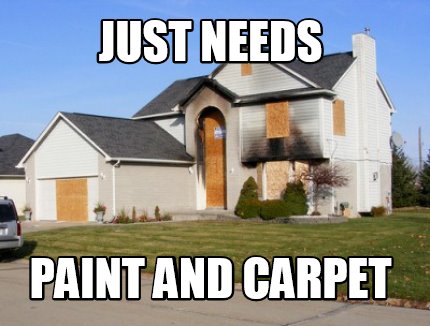 Here are some of the don'ts.
Most important. Do NOT sell or advertise someone else's deal unless you are a licensed agent. In most states this is illegal. In Florida, it is a felony. If you think you found a great deal from another wholesaler, get an assignment or option to buy.
Don't deflate the rehab costs – it makes you look stupid, ignorant or deceptive. All 3 make people stop reading your emails
Don't give bad comps. I really don't care what your comps are I am still going to do my own research. Most competent investors, realtors and appraisers would not use a house that is 20% bigger or smaller in square footage as a comp. A friend who has been in the business a long time did not know that as houses get bigger the sold sales price per square foot usually goes down.
Do not tell me it "Won't last long" This is assumed if it is really a deal.
Do not give me a ROI or Cap Rate if you do not know how to truly calculate these. Most single family homes are just not evaluated on cap rate or roi. They are evaluated on comparable sales.
Don't rely on some other wholesalers information before you send to your list. Check it out.
Don't tell me what it sold for in 2008, just not material.
Don't tell me the price is 80k, the repairs are 20k, it is worth 125k and the profit potential is 25k. You sound like one of those idiotic tv shows. News alert: there are closing costs, holding costs, money costs if borrowing, taxes, insurance and sales costs. That 25k profit you are espousing probably just got knocked down to 16.5k.
If you would like to use this article or get on my buyers list contact Todd Hutcheson at todd@ibuyhomes.com